Second part of Valentine's!!
I bought a conservative elegant looking black dress for Valentine's.
So, I wore it for the dinner.
I thought my smile was way awkward.
Cause, I don't usually ask Rayner to take picture of me, alone.
Ahh, the resolution sucks. =/!
Rayner wore a blazer, with some basics inside. =)
Rather cool picture of him yea?
Anyway, we took a cab to our destination.
The restaurant is called, Indulgz.
Located at Tan Quee Lan Street.
I booked the four seater for our dinner. =)
The decorations were lovely. Ambience was alright. Food was tasty.
BUT, (yes, B-U-T with CAPS), the freaking spelt BOTH our names wrongly. How can such things happen? BOTH?!!
Ray
m
er and Jo
y
celyn
It was rather irritating to a certain extent. You see,.. it's Valentine's. And there was a grave mistake in the card on the table. zz. I swear I didn't spell Rayner's name wrongly, and furthermore, they copied my name from my IC. Roars!
In order not to spoil the joyous mood, I didn't bring it up to the waitresses. Doubtlessly, many might make a huge hoo-haa outta it. But nahh, laughing it off was a better alternative.
So, I called Rayner, "Raymer" the entire rest of the day. =D
Come to think of it. If I brought it up to them, they are so going to be damn apological about it. Lol!
As usual, Ray boy fooled around with the deco and stuff.. Lol!
And decided to act cool when I caught him in the act.
It was rather bright then.
6pm sharp.
Then, our cocktails arrived. With a cherry inside.
(I forgot to take a picture of it. )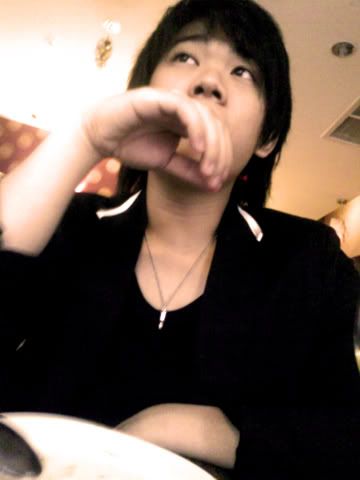 Then came the appetizer.
Crostini
(Homemade crouton with a topping of button mushrooms, almond & truffle oil)
and
Cocktail Prawns
(Served on a base of telegraphic cucumber with mayonnaise sauce)
The Crostini was soooo tasty! It's like, when you bite at the "black ball", the fragrance simply bursts into your mouth. The cocktail prawn was very fresh and sweet tasting. But, nothing really outta the ordinary.



Then, we had our soup and starters.
Creamy Clam Chowder Soup
(Wholesome clams in a sharing portion of creamy & thick clam chowder soup)
and
Crabmeat & Potato Croquette
(Made with real crabmeat & hand-mashed potatos, drizzled with garlic mayo & sides of garden green)
Those who had been to Indulgz before would know, their soup is superbly tasty!
Soups great, but the croquette,.. I find the portion too big. (??!?) I can't finish the whole thing, as I got rather sick of it towards the end.



However, next in the menu was a refreshing little cup of sorbet (My favvv!), before the main course.
Pomogranate & Lime Sherbet
They don't have the picture for this. Cause it's not in the 5 course meal. So pardon for the unclear picture yea? Anw, it's really refreshing! Side track a bit, I thought it should be Sorbet? Hmm, Sherbet. Wonder where's the origin of this name.


Then, main course was served!!
Ribeye Steak with Mushroom Ragout
(Premium ribeye grilled to your favorite doneness, topped with creamy
shimijie mushroom ragout & base of sautéed spinach, and finally drizzled with red wine sauce)
and
Pan roasted Red Snapper & Deep-fried Oysters with Carrot Butter Sauce
(Served with sides of hand-mashed potatoes & poached asparagus)
I preferred the Red Snapper to the Steak. Which was the exact opposite from Rayboy. Which was GOOD! Hoho! He ate more of the Steak, and me, more of the Snapper. Anw, the Carrot Butter Sauce was damn nice! It was so sweet, till I thought that it was Corn butter sauce instead. Not till I read the menu again, then I know, it was Carrot. Very nice sauce, 2 thumbs up!
There were heart-shaped capsicum in the "divider" of the steak and fish.
And Rayner asked, "What's the green and the yellow thing?"
Apparently, he thought that only the red ones are called capsicum.
Lol!
After our main dish, while waiting for the dessert. We took pictures with the rose prepared for us. (Ray's idea)
Then, I wanted to take pictures with the rose too.
And this was the first shot.
Seeing Rayner's sweet looking rose picture.
I was like, eeeyer, I look so fierce!
So I took a second picture.
Slightly sweeter yes?
But too bad it was blurry. =/
Not long after, our dessert was served.
Chocolate Mousse
This Chocolate mousse was unexpectedly nice! Lol.
Cause, I don't really fancy sweet and milk chocolates, and judging by the colour, I thought this would be sweet beyond description. Apparently not. There was a hint of bitterness. Nice nice!~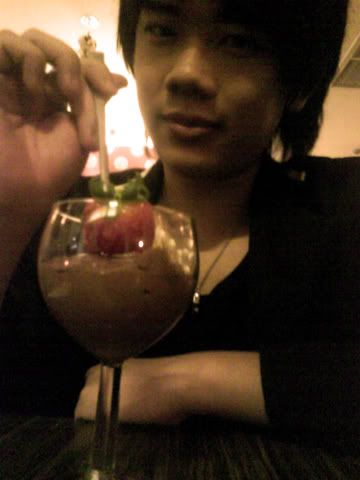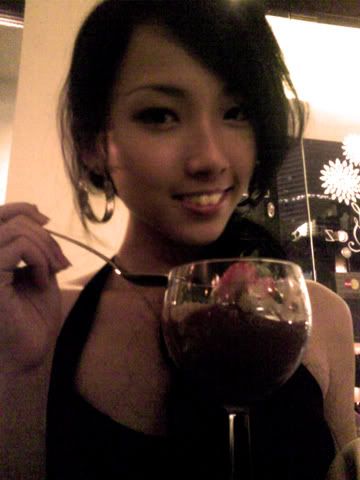 After the dinner, we went to stroll about at Esplanade.
And there was a band playing for Valentine's. Rayner and I decided to take a slow dance there.
That moment was so sweeeet....~*


But soon after, destroyed by an auntie. She said, "Oh my god!! Excuse me?!?!!"
What the..?! I was damn pissed off by her. She was with other aunties. Sigh, must be jealousy.
Thought of continuing the dance, but nahh, she spoiled the mood! Bleeahhh!


Then, we met up with Ray's brother in a pub where Rayner and I first kissed.
Hehhh, sweet ending. Muacks. Love you boy~!



Pictures and description of the food taken from Indulgz