Hey!! I am so enjoying the process of applying makeup on my facechart! Heh!
It's like the PCgame I played when I was in kindergarten! Barbie Make Over or something along the line. It's like, you can choose your barbie. Blond, brunette or redhead, apply makeup, choose their hairdo, mix and match their clothes, and choose their surrounding, then take a picture. (Which was screenshots, but I didn't know. I just like the idea of "holding" the virtual cam and ka-chik, ka-chik. ) Good old days!
YAHH! I can blog about all my childhood PC game! Idea!!..
Okay, back to topic, I did another look that I do when I go out at night..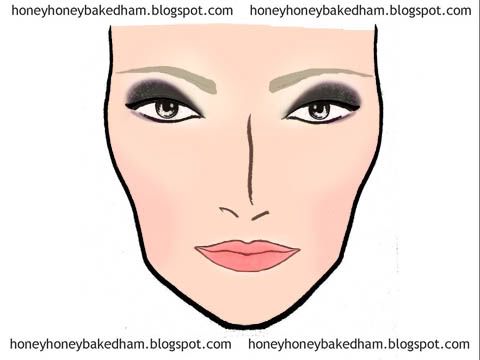 This is the final look.
And it's easy to do!
Refer to the animation below!
Start with a clean canvas, n foundation.

Apply eye primer all over the ball of the eyelid
Use crayon black eyeliner and create a sultry shape that will elongate the eyes (sexier)
[This is the trick! Use crayon eyeliner, instead of the others. The slight stickiness of the crayon liner will make the eyeshadows adhere to the lids throughout the night!
Note: Best not to use liquid liner as it is not matte, and will not be visually appealing when the eyeshadow is packed onto it. ]
Apply black eyeshadow (I use glittery stuff at night), leaving the middle of the eyelid bare

Accentuates the crease and outter corner of eyelid with more black

Apply deep purple glitter eyeshadow on the outter corner of the lid, and the middle bare area
Draw thick eyeliner and apply mascara
Line the water line with black liner
Use the deep purple shadow to line the outter lash line
Use a silvery white shadow to line the inner lash line, to the tear ducts
Apply a deeper shade of blush
Apply highlights above the cheeks, browbone, and nose bridge
Fill in the brows with darker browns
Line the lips, and apply a sheer layer of berry coloured gloss






You are done!

Hope you enjoy this~