This is a reply to a comment that make my blood boils this morning. --
It's supposedly a great day for me with casting and a shoot. Thanks so some idiot that spread some rumors causing blame on me?!!! What the fuck?!!
Okok, here it goes. --
Frankly, I have no time for this. But it shouldn't be bothering me for the rest of the day.
Which explains this entry.
Here is the comment I see this morning.
Which was in yesterday at 2.59pm.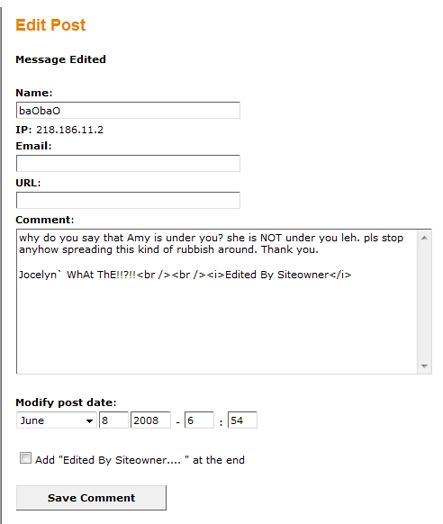 I am freaking pissed! Till I can kill both the person involve and the idiot who cause this rumor to arise.! If I ever find out, your reputation will definitely go down the drain.

TO: baObaO

It's been such a long time since I step into her page, or even yours. Why, and what made you say that, I say that Amy is under me?! I wouldn't want her to be under me either. Frankly speaking, putting her under me won't make much of a change anyway. But, I think you should seriously check things out clearly or ask me on msn in private before booming here. Cause it isn't very nice. Amy isn't in this modeling thing for long I believe? Why is she under me then? Girl, you should seriously learn some respect and be smart about stuff before being impolite here. I urge you to investigate properly, and I need an apology comment from you. Your attempt to disgrace me in my blog is too much for me to handle. Hope to see your reply comment soon!



TO: The fucker that caused this

Eh, aren't you a bit too bored?! Come to my shoot and help my photographers hold the reflector la! What's so fun of causing disputes around? And the thing is that, they aren't even close friends loser. So, get some brains. If you are really against me. At least be more professional. And you better stop this, or show yourself to settle this shit.



TO: The person who comment and if it's not baObaO

I think you can seriously take up a job of cleaning a toilet bowl. Cause it might help you clean your filthy self better. Likewise, you better stop this, or show yourself to settle this shit.