And so, after the long relaxing bubble bath that we had (from the previous entry), people started to pour in.
Many random pictures was taken, yeps, that's pretty much it.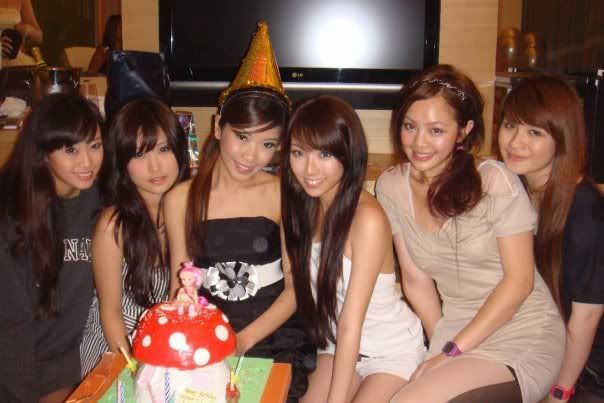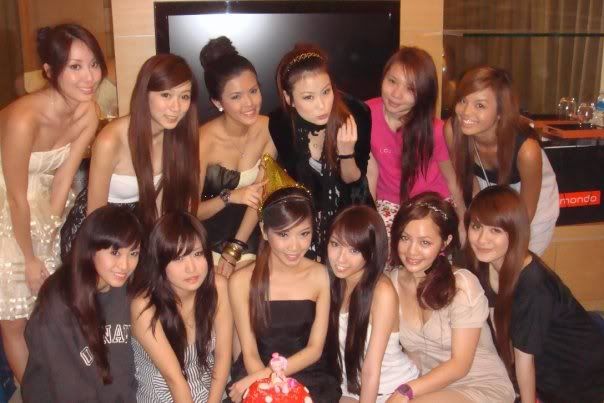 [And a few random shots where I was accidentally taken in]

I was constantly doing the same thing. Lol?

When we're singing the Birthday Song I suppose.

After the cake cutting, present exchanging, and phototaking session,

we were convinced by the security that we were one crazy bunch making too much noises,

so all of us have to leave.

So we came up with Plan B.

Thai Pub - Sanook!

Mine's the baby pink hand! Sweetness. =)

Apple bought these watches from Thailand for us girls!

From the top, and clockwise.

Winnie, Shuana, Apple, Jocelyn, Audrey!

Me with the Birthday girl!

Shuana.

Audrey!

Many say we look alike.

True?

Winnie was seriously busy,

everyone was giving her their greetings,

and having small talks.

So it was just us.

Stole her hat!

The night went on really well, with good music and attempt shuffling on my part. =) I'm improving at my shuffling! Really got to thank Winnie, Derek, Vincent, and Melvyn. They had a hard time coaching me! Boohoo! Anyway, what's really cute that night was that Winnie cried. Aww.. She was so touched by us (this group of girls that club together!), that she teared. Heh!
No one will expect such a strong character to cry yes?

But that expressive flow of emotion warmth our hearts. As, at the end of the day, many say that friends you got to know from a club aren't really friends. How untrue!