Alas, my Halloween blog entry!
*Deng deng deng*
Well actually, it is not too bad right?! As in, I'm just 10days late in posting.
Not like it's a month or something. (Being v delusional and oblivious about my lack of updates, lalaalla. )
I was dressed as an AH MA/ PO PO! Very funny I know.
And many, I mean MANY people was kinda stunted and taken aback when they see me in that character. In fact, some people couldn't recognise me (and asked me where was I on Halloween on FB when we were actually partying at the same place). Was my "disguise" too good or what?! I should be a makeup artist man.
So much about being pretty little thingies everyday,
must as well switch it up and be old and wrinkly on Halloween?
I wanted to pull some of my girlfriends along but they prefer to be sexy. Cheyy..
Alright, enough talks.
Picturesss puuuleaseee!!
Both of us were trying really hard in concealing our eyebrows.
We kinda have alot of brows you see.. -.-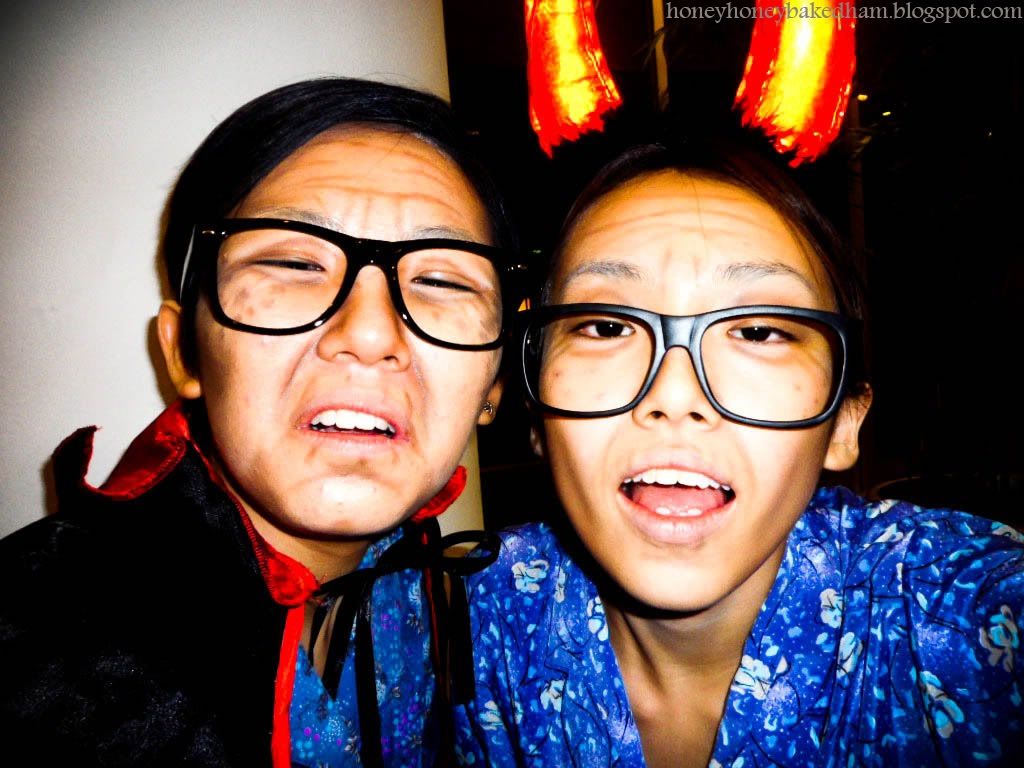 Heh heh! TAHDAH!
We two POPO in our megawatt smile!
You know, old people can't really smile properly, and my face explains the,
"old-already-smile-cannot-sync-w-camera-shutter" symptom.
Nana's face explains the,
"I-treat-my-face-like-a-playdough-when-I-was-young-and-bake-myself-in-the-sun" symptom.
It's quite a sad case for her.
I look much chioer. Laalallalaaa..
We really full-force Ah Ma gear from head to toes to bags!
Nana was carrying a Yu Yan Sang plastic bag, and myself,..
A reused Takashimaya PAPER bag. lol
That was Nana's "grand daughter" (i.e. my neice) for the night.
She was suppose to be the Shaolin Kung Fu fat woman who smokes and wears nightie,
she ended up looking like Ugly Betty instead. Haaha!
"I'm a horny ah ma, sexy sexy ah ma."
Look at her Yu Yan Sang bag. Hilarious la.
I swear Nana looks wayyy funnier than me lo. And she kept insisting the otherwise.
By the way, first stop of the night was
Filter
(which happens to share the same first 4 letters as filt-hy)
at Gallery Hotel.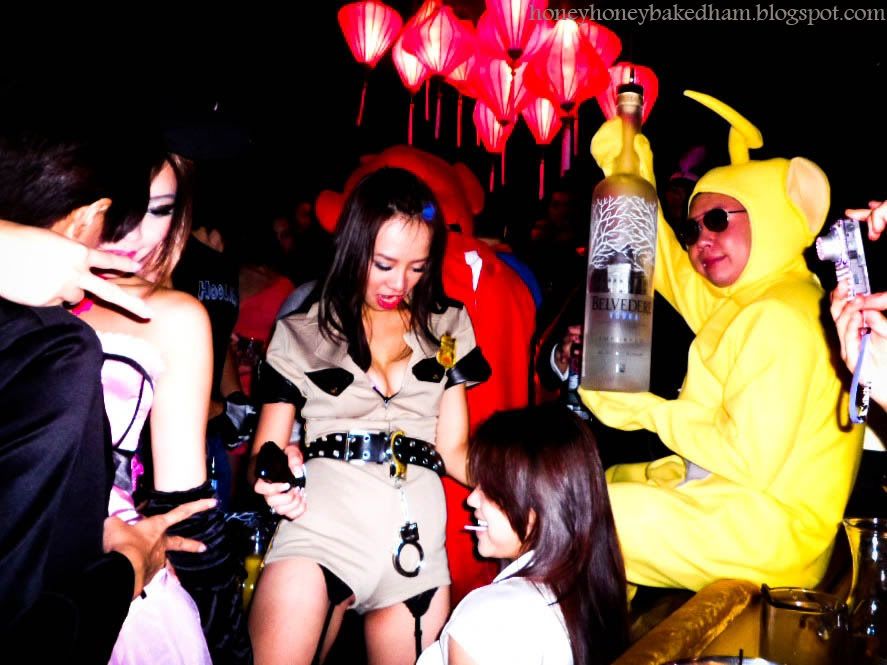 Honestly, my intentions was to
take
the sleazy lesbian action
the yellow Teletubby (La La).
And, you can see a really big size red Teletubby (Poh).
It's wrong lo! Poh is suppose to be short and small.. And that man's SOODAMNTALL la.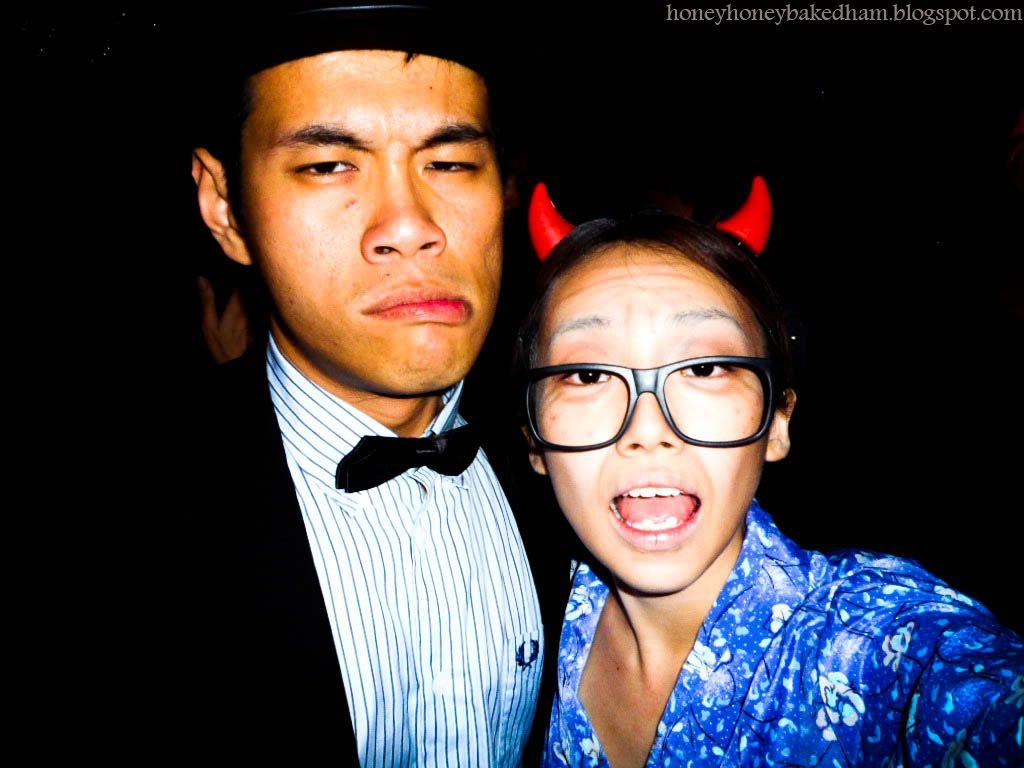 Cedric.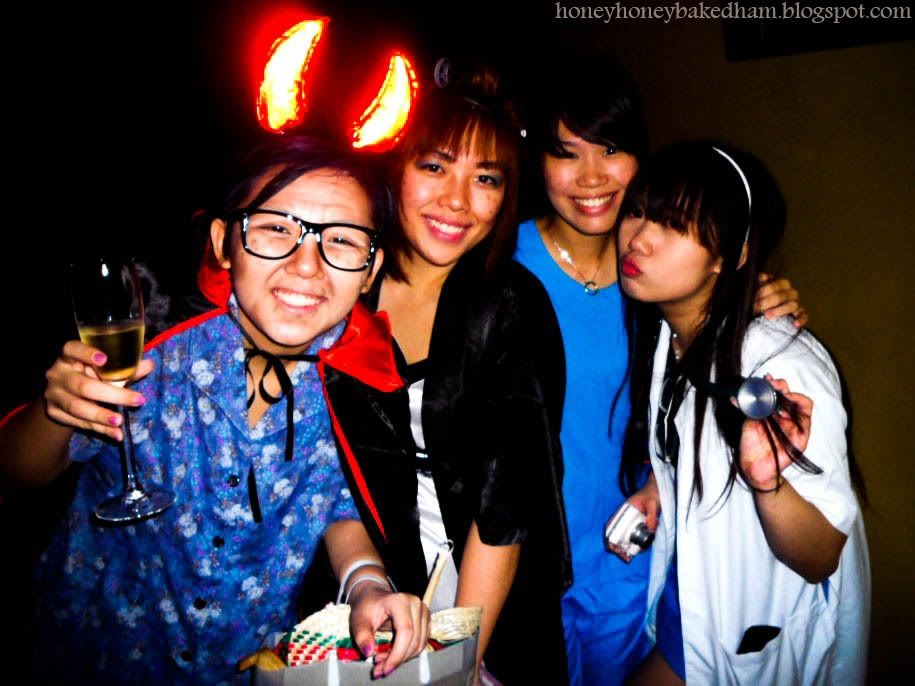 Nana. Valerie. Queennie. Gem.
Wahlao. Ah Ma still use youthful barbie pinkish purple nail polish.
老 vain pot.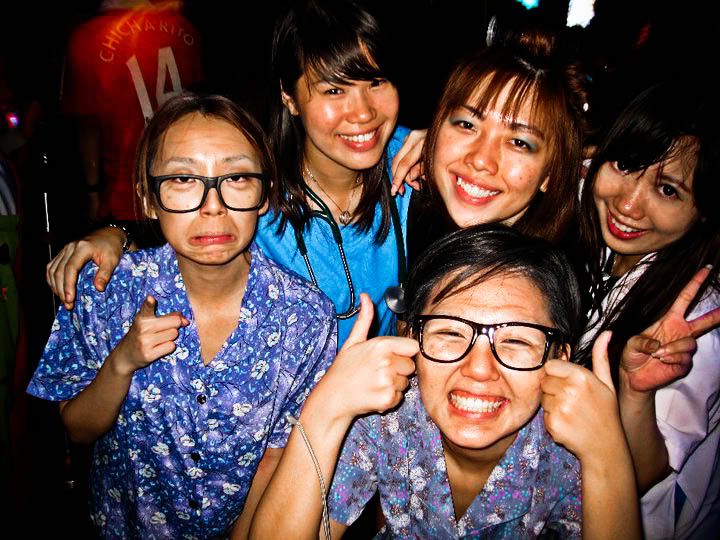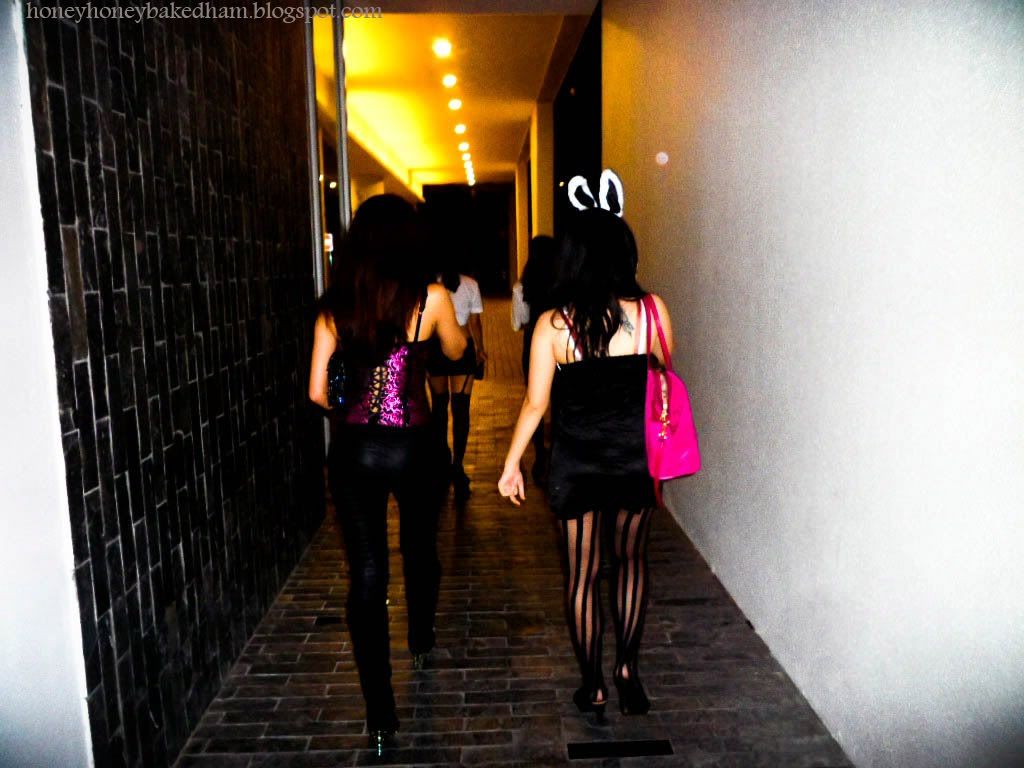 All the sexy thingss..
Look at Jocelyn Wee's (left) ass. Woot!
Filter was really heated that night.
We old people, doctors, nurses, and children cannot tahan.
So we came out after a couple of drinks.
Look at her hair rollers + freakers + blue eyeshadow!
UGLY BETTY LOR.
And the funniest part was that,
she kept laughing at Nana and me.
Like oblivious about her get-up lor!
Anyway, I think cam-whoring on Haloween is way more fun than clubbing on Halloween.
Agree agree? I mean, you can club everyday so what makes Halloween so special,
if you are not going to dress up and take plenty of pictures?
Classic.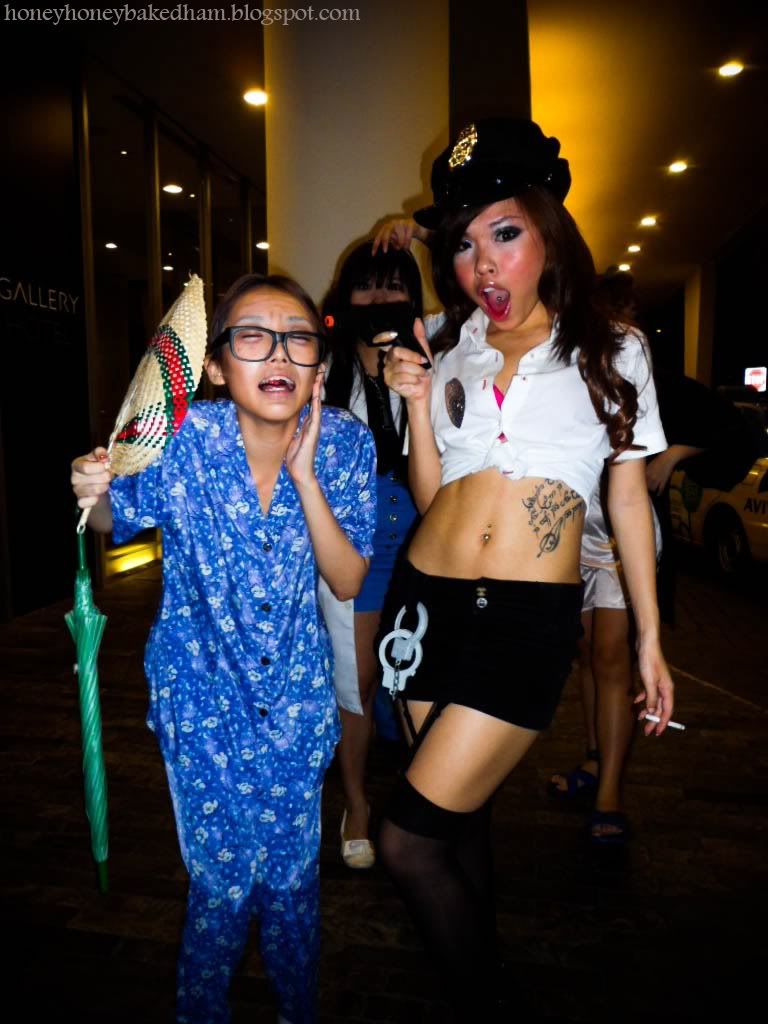 Vivian and Audrey.
The two sexy police officers.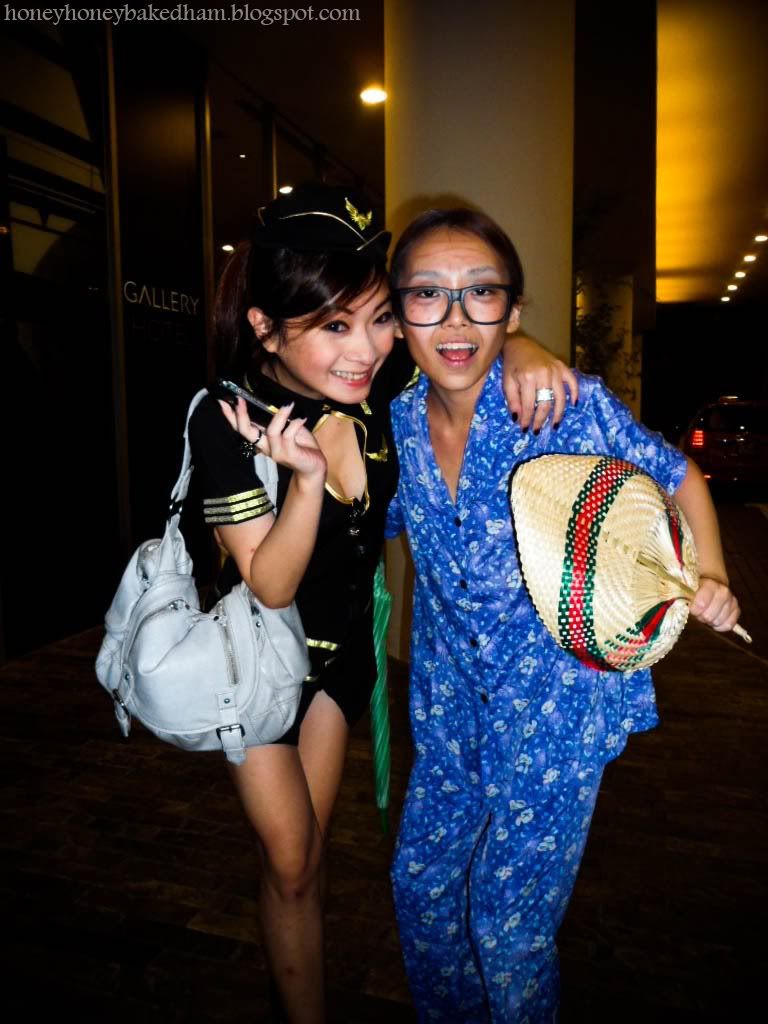 Bump into Sally whist camwhoring!
Seriously love her smile! :)))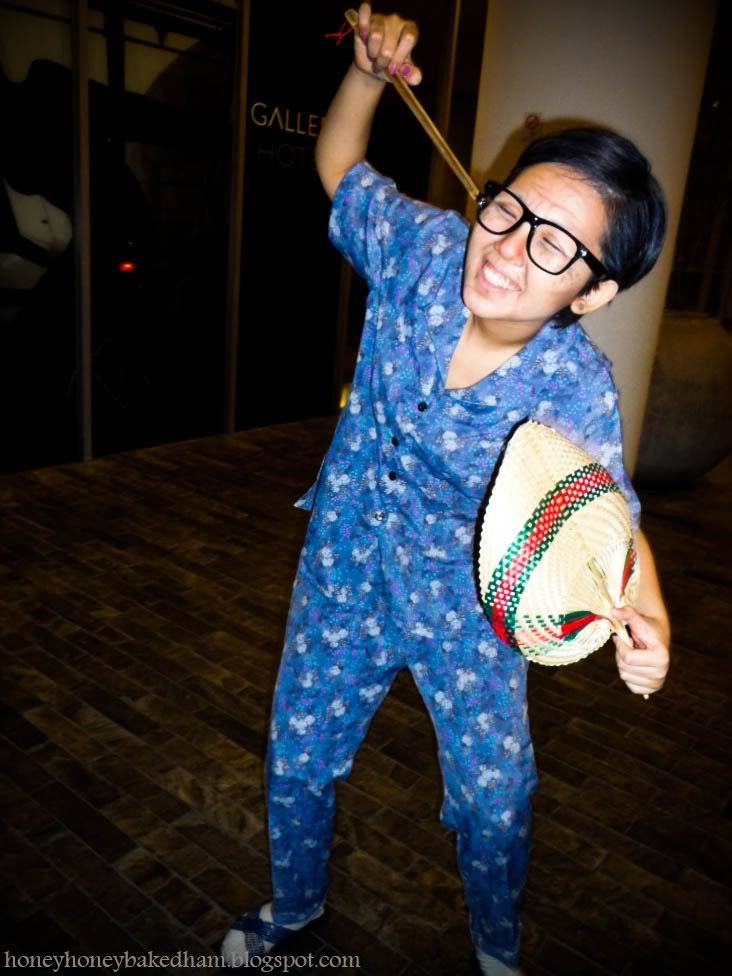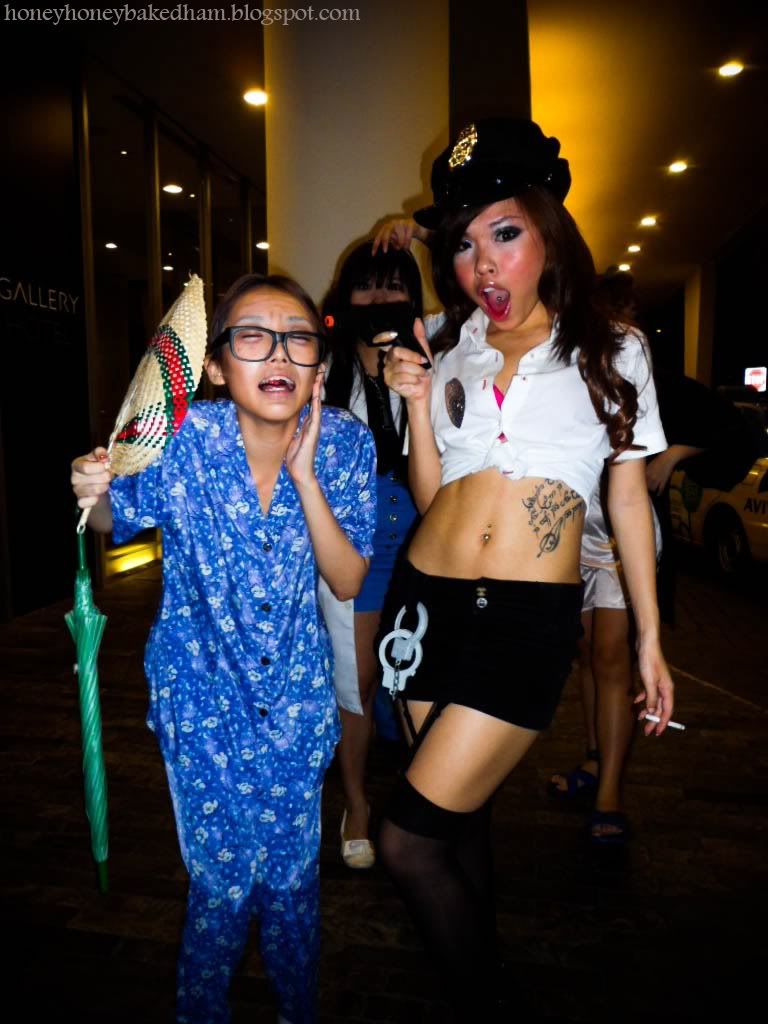 Wah this Vivian really,..
"bo-peh-bo-bu-bo-zeng-hu"
(no father no mother no government)
But her tattoos are really damn sexy ah.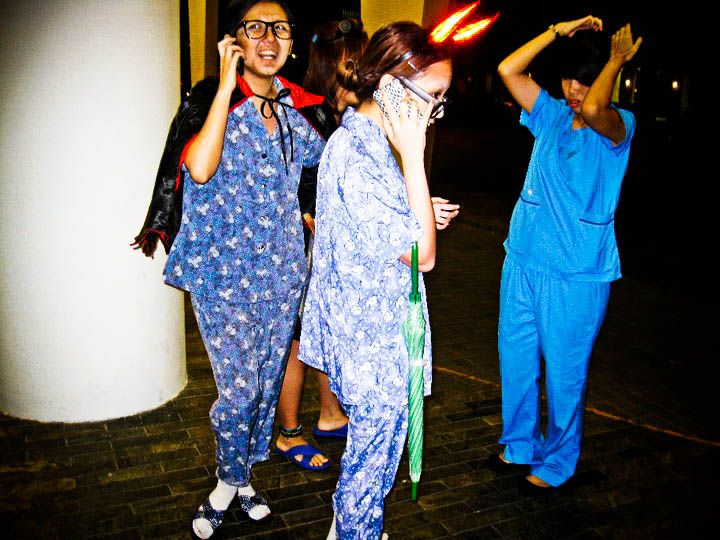 After we were satisfied with camwhoring at the lobby of Gallery Hotel,
we decided to switch to where else but ButterFactory!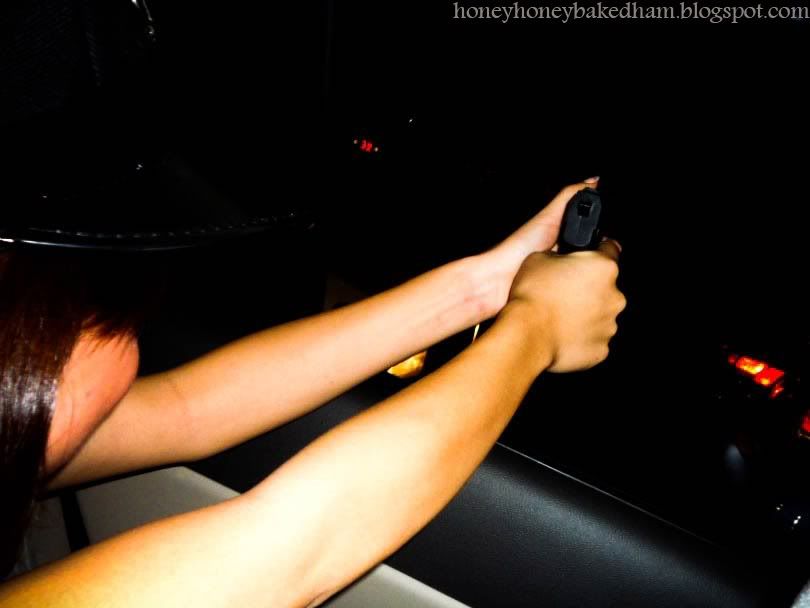 Gem drove us to ButterFactory!
And I wonder who allowed Vivian to sit at the "window seat"?!
She wound down the window and screamed "BANG! BANG!" to everyone.
Taxi drivers, malay motorcyclist, old people, young people.. EVERYONE.
And suddenly, from the rear view mirror, we saw 2
real
traffic police approching.
EL-OH-EL!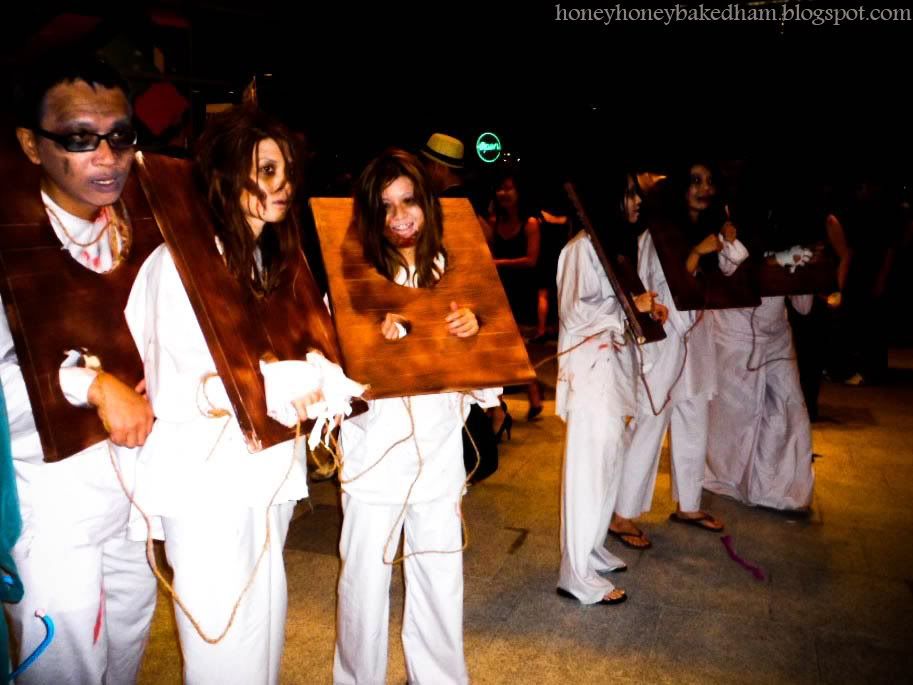 ButterFactory was quite a sight!
And thanks to
DJAndrewT
, all of us managed to get the chop
w/o queuing
via special express queue.
Previleged. :]
I'm thinking he's Indian. What you think? Quite hard to tell uh..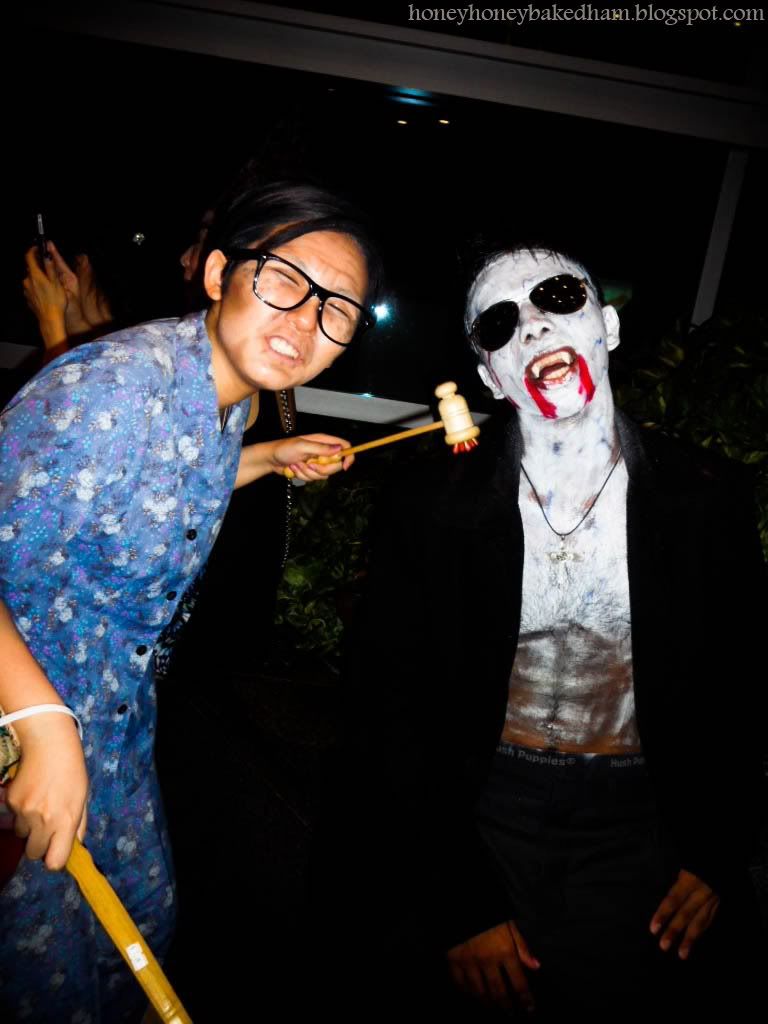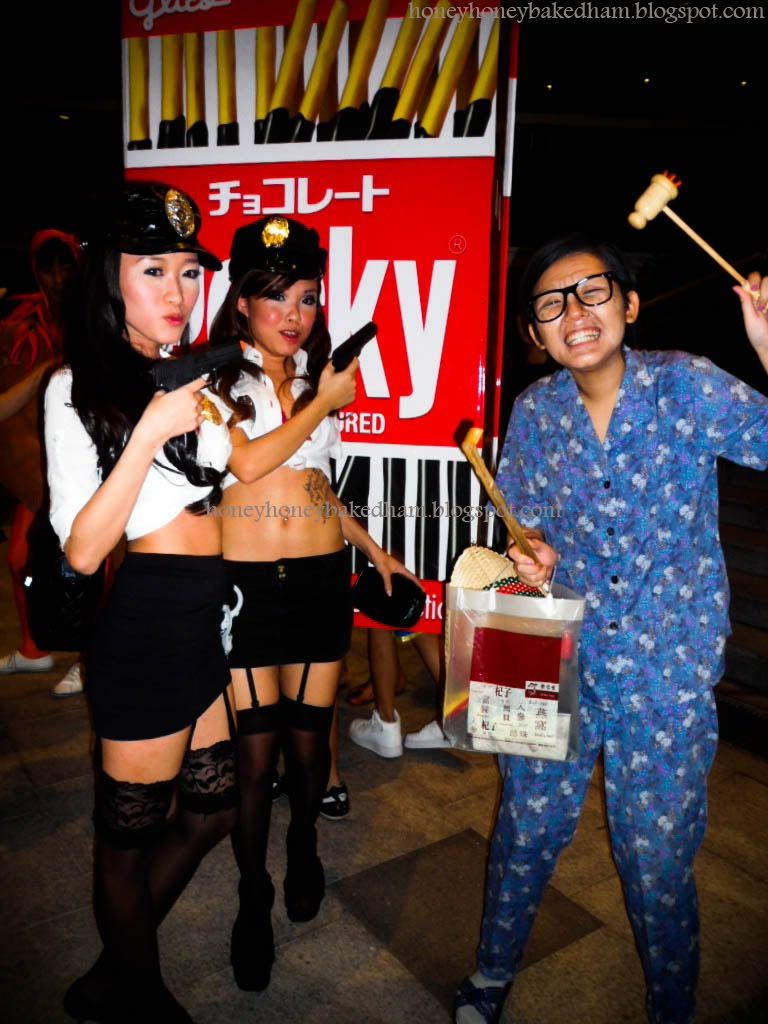 Donavan as Harry Potter. Aww..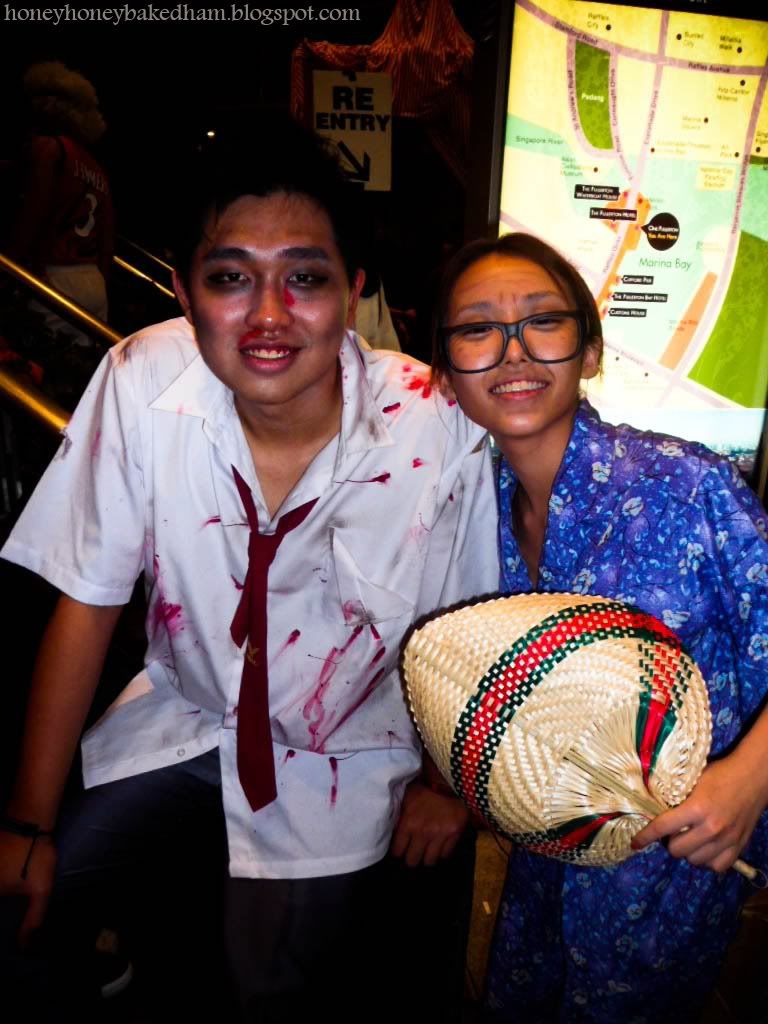 Jeremy the bloody jap student w very bad dark circles.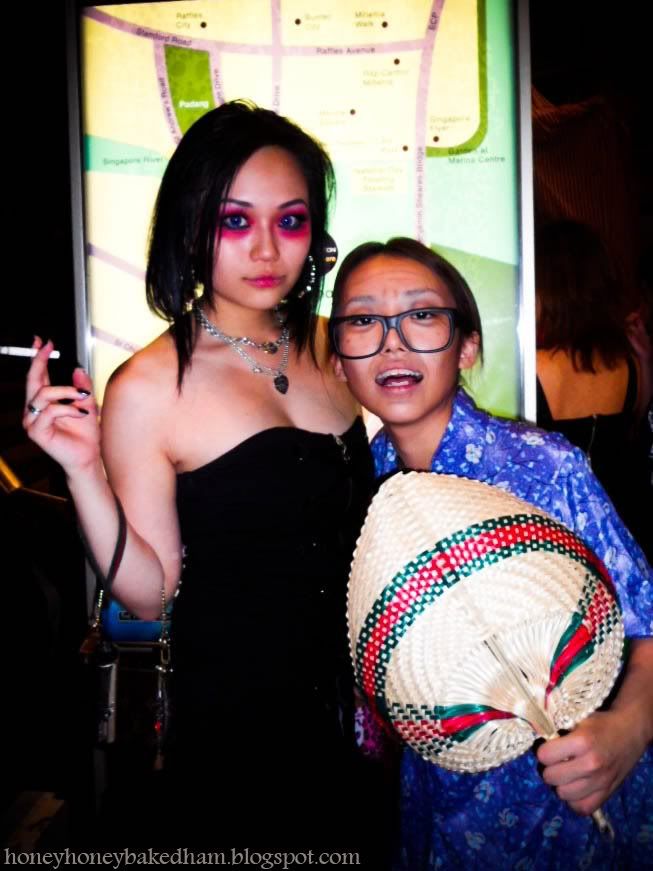 Andrea.
Derek.
And that's his outfit for Halloween.
(P.s. You wouldn't want to see him normal..)
What does the green things called?
The annoying ones from Toys Story.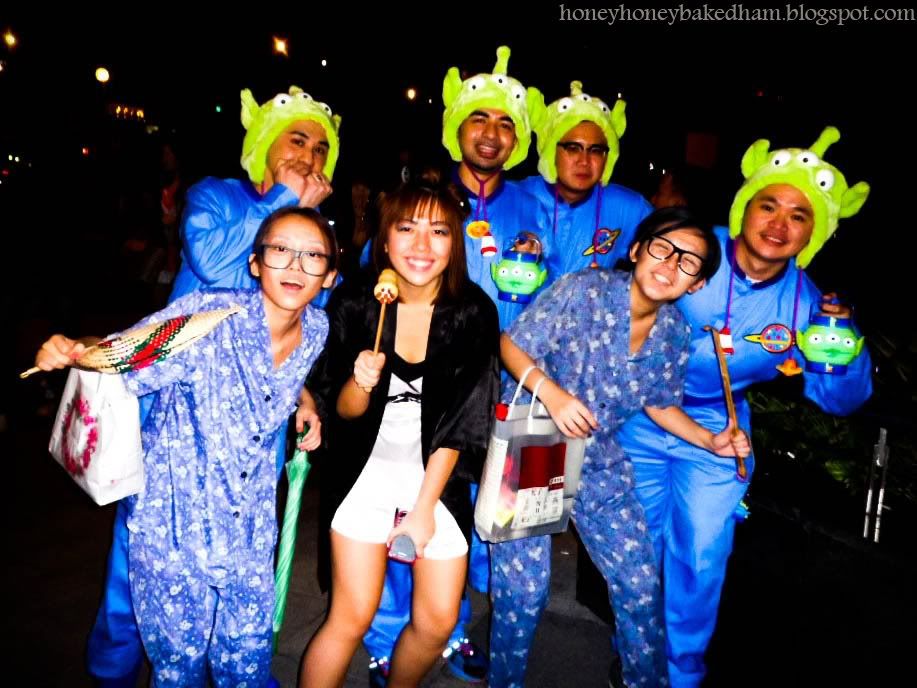 LOL! So cutee..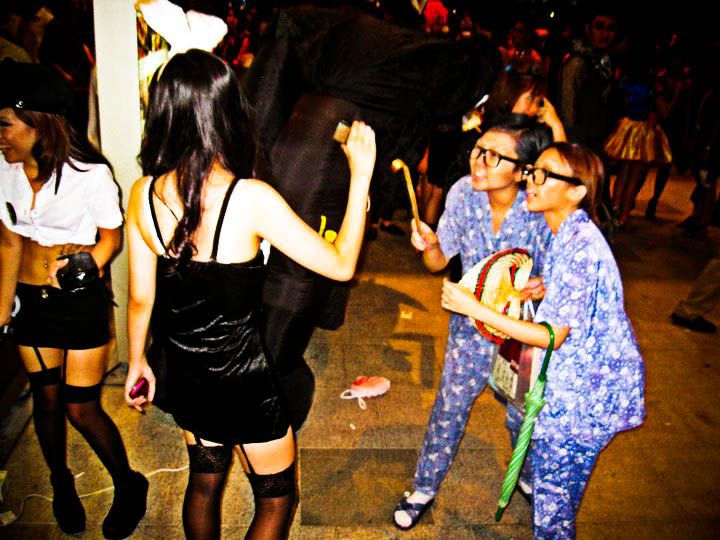 That's Chloe filming the YouTube video.
Lol. I was so in-the-moment, I didn't even know she actually looked away.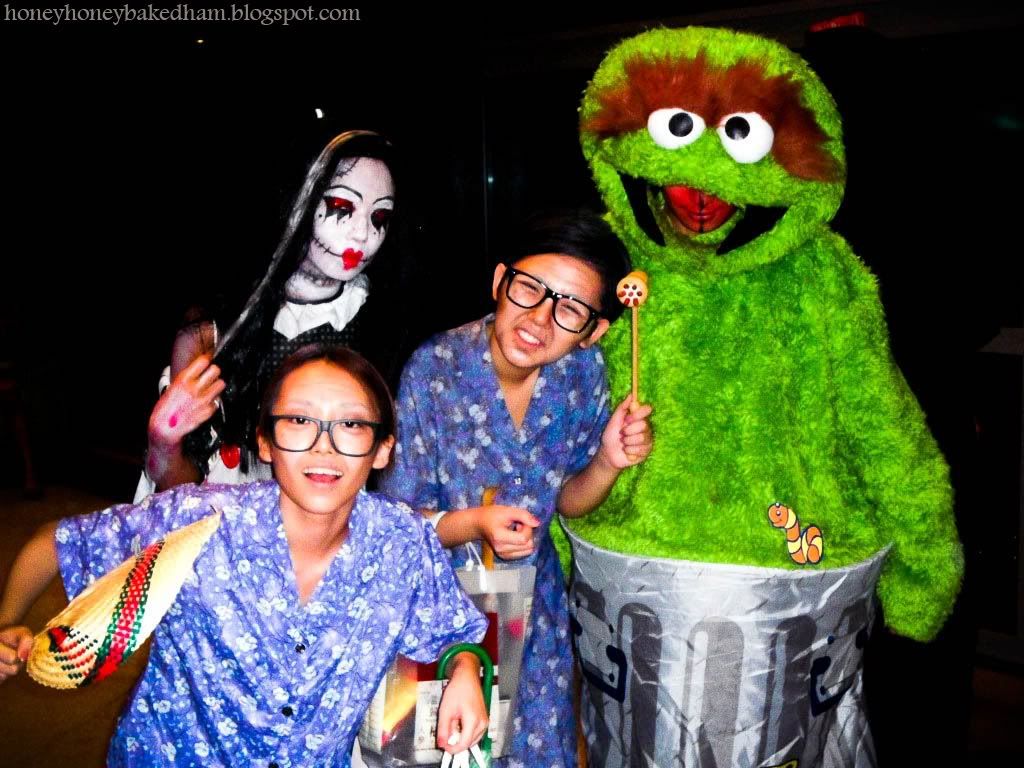 The garbage monster's tongue is his face. Lol!
Bloodyyy...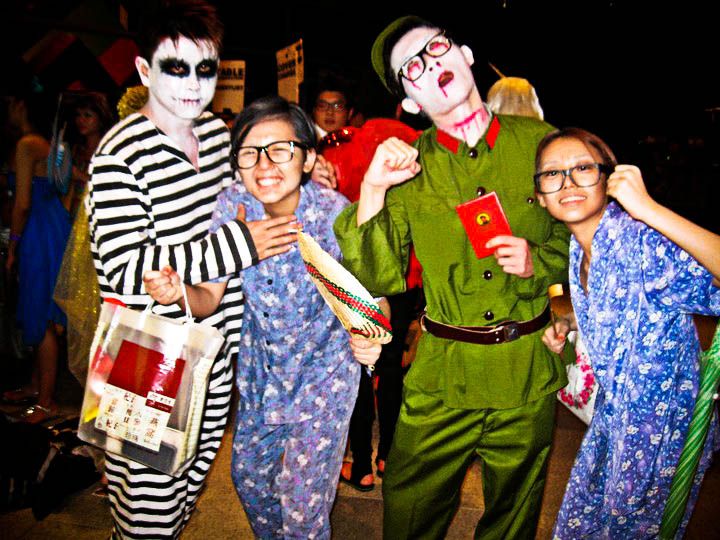 Chloe (the bunny girl) is damn tall la. Omg.
Last picture taken in ButterFactory. :D
We went to Clarke Quay and Rebel after ButterFactory.
It was a place jam packed with elaborated Halloween dressed-up party goers.
Damn fun.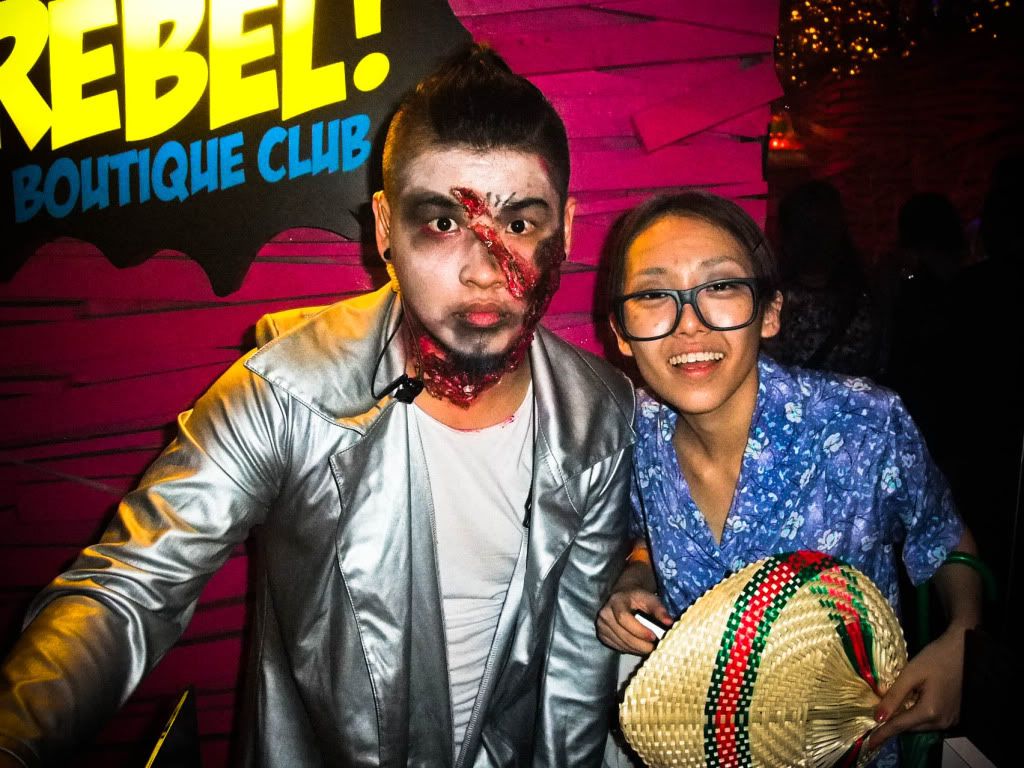 Look at BK!! Rebel actually hires professional makeup artists to "doll up" all their staffs every Halloween.
That's the spirit!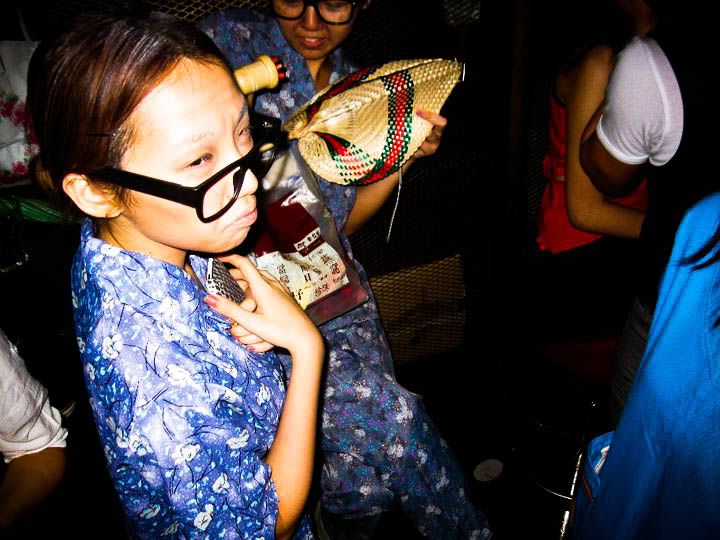 "I too old for DISCO la!"
Old po po feeling lost in the middle of Rebel.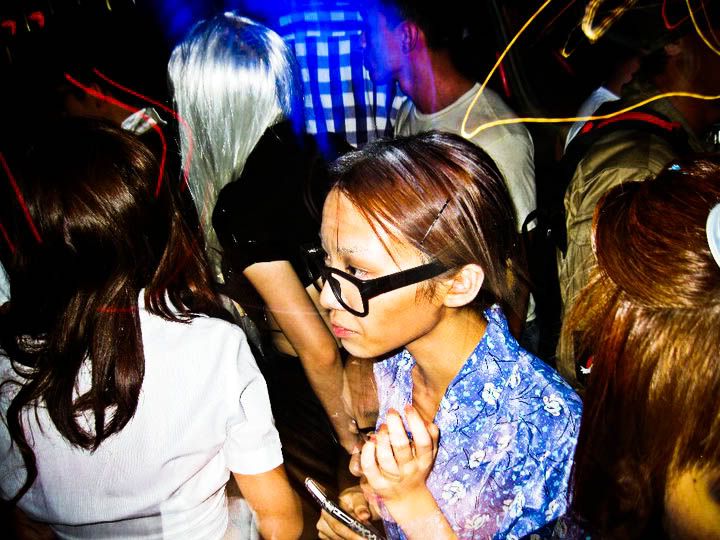 Come sisterly portraits.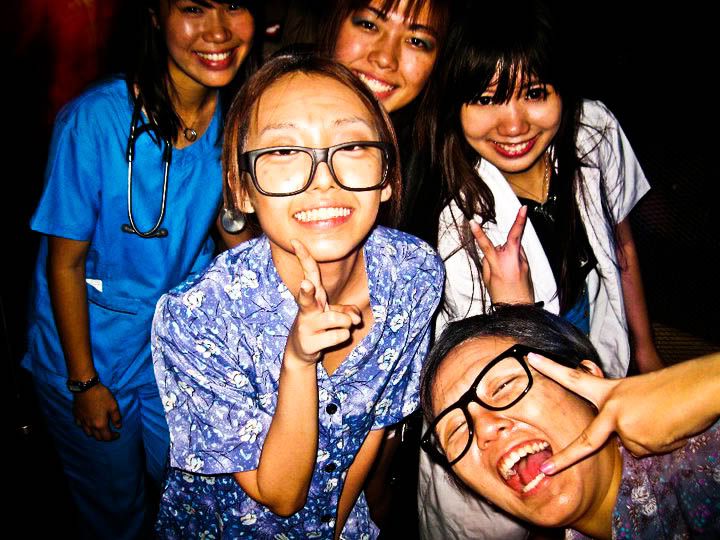 She DIY-ed her whole outfit!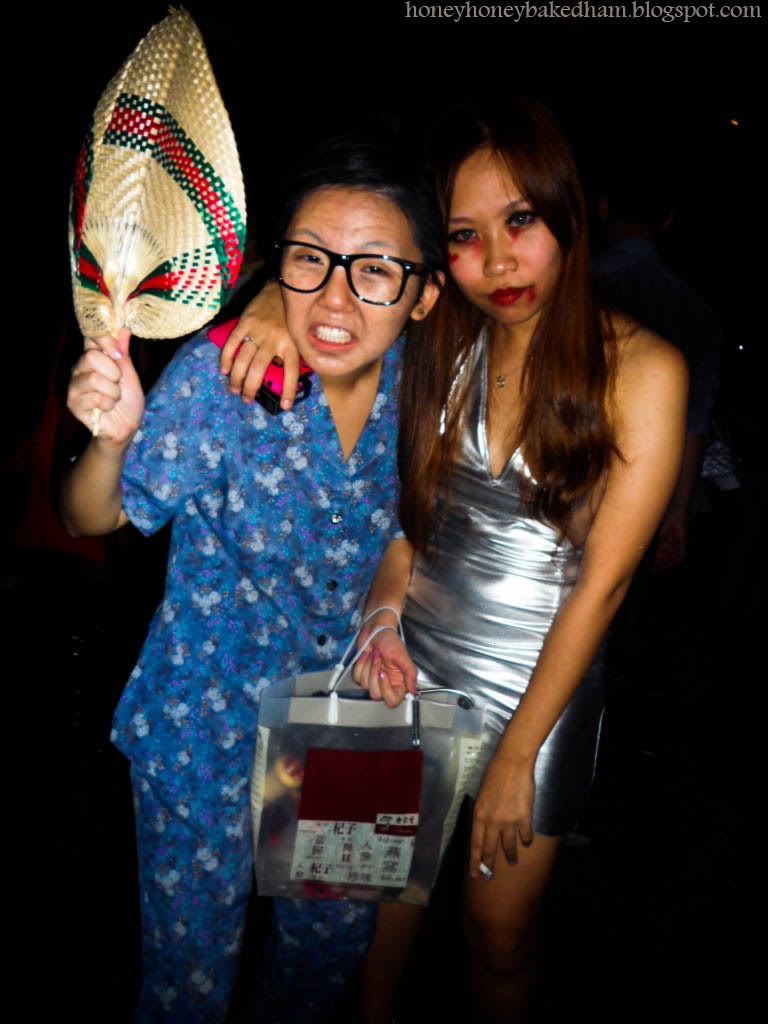 Nana and Guan Miao.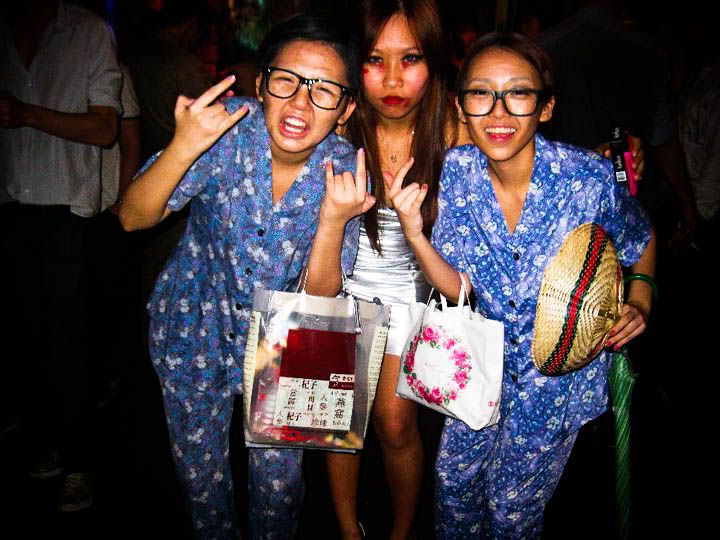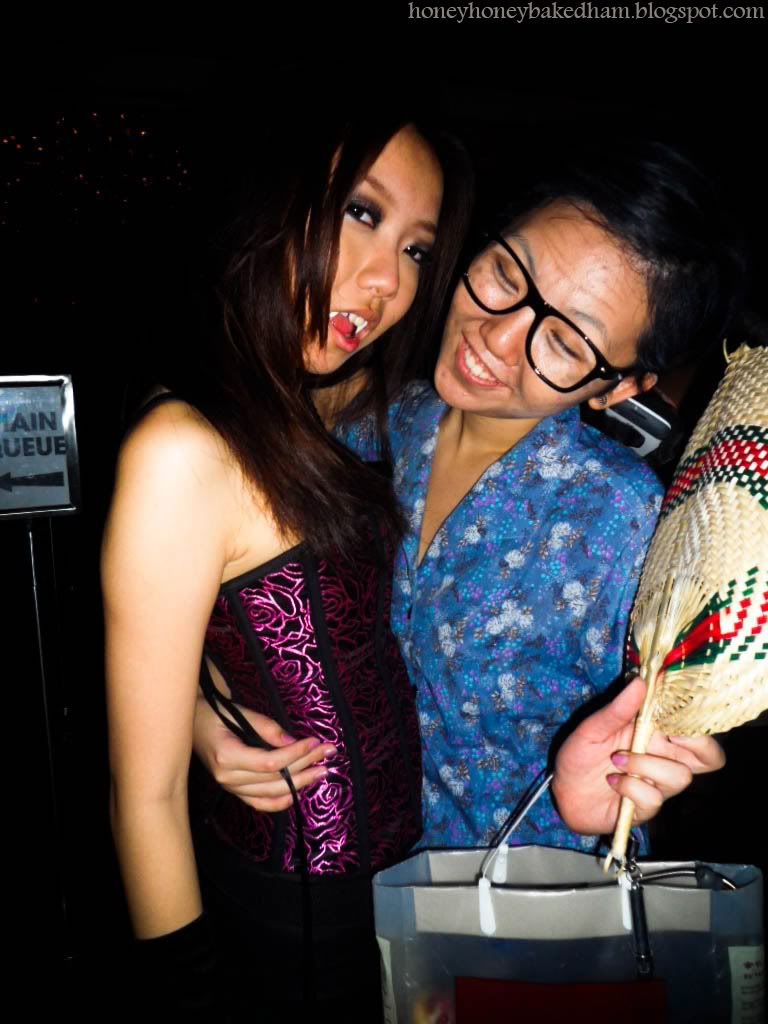 Jocelyn Wee and Nana.
Look at her fangs! She stick them on using chewing gum.
Smart ahh!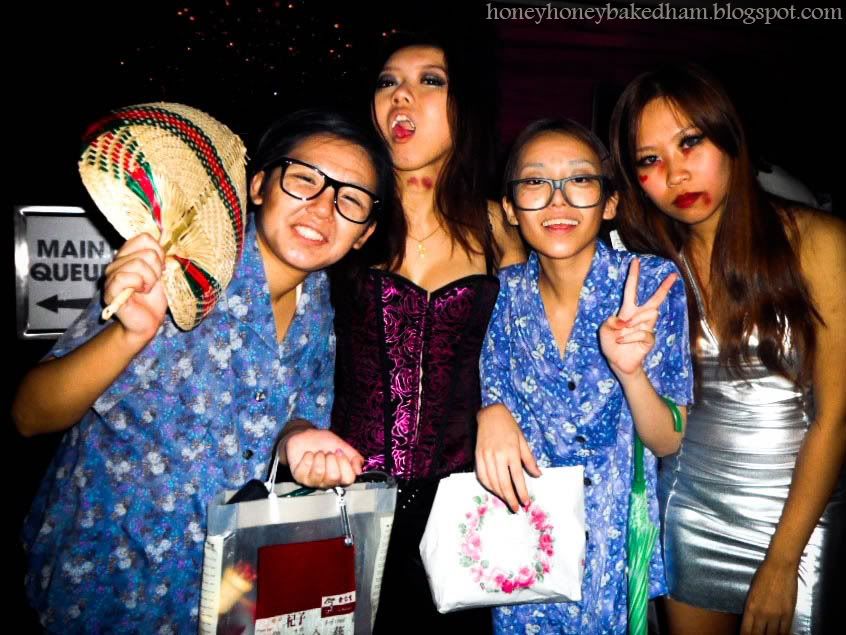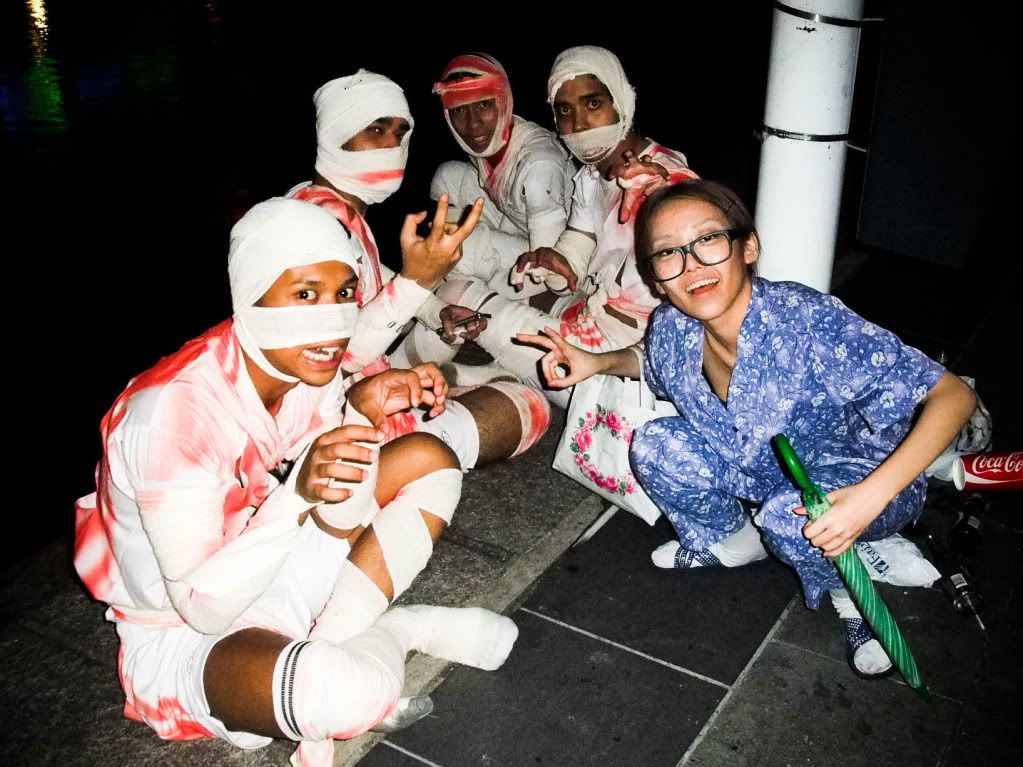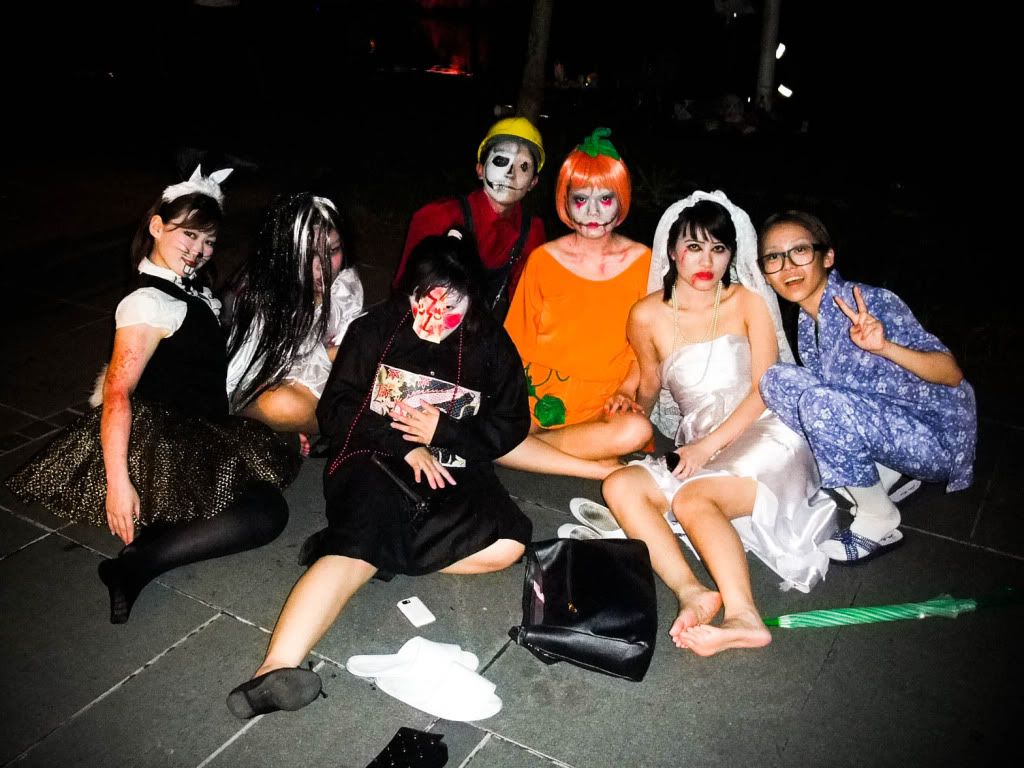 Last group shot!
YAYYYY!
-----------------
Omg, finally done with blogging about Halloween. :)
It's like a huge load off my chest.
Anyway, I really enjoyed this year's Halloween as compared to last years.
Let's do a lil re-cap on Halloween 2009.
Halloween Eve's
outfit.
It was an impromtu clubbing night thingie.
So just "dress-up" as Devil lor.
(P.s. see my long hair hurrr T_T)
Halloween's
outfit.
I was a cat. :)
Come to think of it.
Many people asked me if my makeup was professionally done for both years.
In another words, judging that I did all of the makeup etc myself,
I can be considered as good at this kinda theatre makeup! ;)
At the very least, I did make an impact on many people's memory banks for both years.
I mean, this should be the way.
People shouldn't recognise you on Halloween at a glance.
If you look like yourself during Halloween,
it just means that you are not piling enough makeup!!!
I wish to see more EXTREME made-up faces next Halloween.
I CAN'T WAIT.
LOVE HALLOWEEN!!!!!!!!!